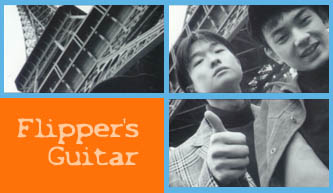 Before Keigo Oyamada was known as Cornelius, he was in a band called Lollypop Sonic when he was in junior high school. the band consisted of Keigo Oyamada, Ozawa Kenji, Shusaku Yoshida, Yasunobu Arakawa, and Yukiko Inoue. After Lollypop Sonic broke up, Keigo Oyamada formed Flipper's Guitar in 1989 with Ozawa Kenji. they created 3 great pop records then broke up in 1991.




released 1991
DOCTOR HEAD'S WORLD TOWER


DOLPHIN SONG
GROOVE TUBE
AQUAMARINE
GOING ZERO
(SPEND BUBBLE HOUR IN YOUR) SLEEP MACHINE
WINNIE-THE-POOH MUGCUP COLLECTION
THE QUIZMASTER
BLUE SHININ' QUICK STAR
THE WORLD TOWER


released 1990
CAMERA TALK


young, alive, in love
camera! camera! camera
cool spy on a hot car
summer beauty 1990
haircut 100
colour field
big bad bingo
wild wild summer
knife edge cares
southbound excursion
3a.m. op
camera full of kisses


released 1989
THREE CHEERS FOR OUT SIDE


Hello
Boys Fire the Tricot
Joyride
Coffee-Milk Crazy
My Red Shoes Story
Exotic Lollipop (and other red roses)
Happy Like a Honeybee
Samba Parade
Sending to your Heart
Goodbye, our Pastels Badges
The Chime will Ring
Red Flag on the Gondola


released 1992
a collection of live tracks
on PLEASURE BENT


winnie-the-pooh mugcup collection
young, alive, in love
boys fire the tricot
the chime will ring
colour field
samba parade
cool spy on a hot car
big bad bingo
3a.m.op
camera! camera! camera!
goodbye, our pastels badges
haircut medley
slide
love train


released 1991
a collection of rare tracks
COLOUR ME POP


hello
coffee-milk crazy
exotic lollipop (and other red roses)
friends again
camera! camera! camera! (guitar pop virsion)
summer beauty 1990
southbound excursion
young, alive, in Love (live)
love train
cool spy on a hot car (live)
slide
groove tube part 2
love and dreams are back
cloudy (is my sunny mood)
big bad disco (smaller)
the world tower


no picture available
greatest hits cd
SINGLES


Friends Again
Happy Like a Honeybee
Young, Alive, in Love
Haircut 100
Camera! Camera! Camera!
Love Train
Slide
Groove Tube
Blue Shinin' Quick Star
Dolphin Song
Cloudy (is my sunny mood)
Love and Dream are Back



CAMERA! CAMERA! CAMERA!
CAMERA! CAMERA! CAMERA!
BIG BAD DISCO
COOL SPY ON A HOT CAR


FRIENDS AGAIN
Friends Again
Happy Like a Honeybee


YOUNG, ALIVE IN LOVE
young, alive in love
haircut 100


LOVE TRAIN
Love Train
Slide


GROOVE TUBE
GROOVE TUBE (pt.1)
GROOVE TUBE (pt.2)


BLUE SHININ' QUICK STAR
Blue Shinin' Quick Star
Dolphin Song



the LOST PICTURES and three plus one
FRIENDS AGAIN
HAPPY LIKE A HONEY BEE
JOYRIDE
GOODBYE, OUR PASTELS BADGES


ORIGINAL CLIPS & CMs
CAMERA! CAMERA! CAMERA!
spacemen cm
YOUNG, ALIVE IN LOVE
mierun-desu
SLIDE
slide cm
COOL SPY ON A HOT CAR
good-night from TFG television service


Love Train
Love Train
Slide


designed by mike donk at monitorPop � 1997 ::